PureBB Diaper Cream: Apply PureBB Diaper Cream every diaper change to protect the nappy area for preventing the deaiper rashes.
With double protection (Zinc Oxide and castor oil) Zinc Oxide has a mild antiseptic and astringent for the skin, and castor Oil itself help soften dry hard and chapped skin. Sun flower Seed oil can help to protect the nappy area from rashes and irritation.
PureBB Soothing Cream: PureBB Soothing Cream containing the natural Ingredients such as Extract Oat Kernal, Sun flower seed Oil, Extract Olive Oil that can help to keep the moisture of the skin and  also protect the skin from eczema and prickly heat.
PureBB Liquid Soap baby bath for baby sensitive Skin.
protect baby's skin safe from irritation, dermatitis, allergic and prickly heat because it is contain Oat kernel Extract, Chamomile and Panthenol.
Purebb Shampoo : Shampoo to clean the baby's hair and scalp that is specially formulated No Added SLS and has been tested for Hypoallergenic, gentle on the eyes with a pH of 5.5
PureBB laundry Liquid: laundry Liquid with effective formulation that clean your laundry and safe for baby's sensitive skin. Help to keep the clothes, sheets and other fabrics soft and no potentially harmful chemicals that can cause baby's skin irritation, dermatitis, allergic and prickly heat.
PureBB Liquid Cleanser:  Liquid cleanser with food grade formula is safe for cleaning all the baby dishes and remove unpleasant odor. Kill bacteria with natural Anti Bacterial. No Fragrance, will not giving any aroma that can mixed with the food or drink.
The MAM Easy Start™ Anti-Colic Bottle is the ideal baby feeding bottle for newborns: babies can drink at their own pace in a relaxed manner.
MAM SOFT BRUSH The innovative extra soft bristles flexibly adapt to different bottle forms. The structured teat brush cleans the teat on the inside:
Extra soft and completely non-scratch.
Stylish MAM design and colours.
Large hanging hole for easy storage and drying.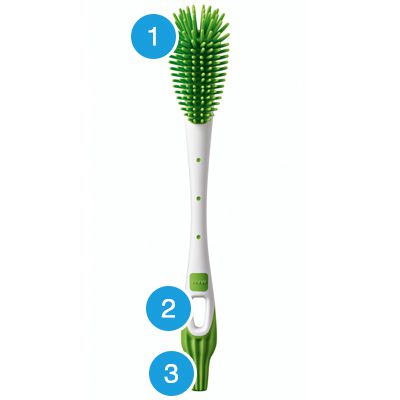 1.SOFT BRISTLES
Non-scratch – for proper but gentle cleaning. Flexible – reach every area in the bottle.
2.ERGONOMIC HANDLE
For easy and convenient clearing.
3.TEAT BRUSH
Cleans teat easily where it is most difficult to get to – on the inside. Shape is ideally suited for cleaning MAM teats
PUREBB HAND & MOUTH ALOEVERA: For hand and mouth with food grade formula and give protection from bacteria
1.Natural Anti Bacterial
2.pH 55
3.No fragrance
PureBB Rash Cream: Effective to cure the diapers rash and having moisturizer to treat the dry and sensitive skin.