Pure Kids Toothpaste for children aged 6 months or since teething. With the function of cleaning debris or plaque deposits on the surface of teeth and gums and contains xylitol which can prevent the formation of caries on children's teeth.
Moms must use PUREKIDS Toothpaste to care for the health of your little one's teeth because it is formulated with Low Hazard, Food Grade Formula, No Detergent & Fluoride so it's okay if you accidentally swallow it. Because with the formula without detergent, so PUREKIDS Toothpaste has no foam besides that it also prevents irritation of the mouth and prevents decreased taste sensitivity.
PUREKIDS Toothpaste is also formulated without coloring and without artificial sweeteners, so it is better used to treat your little one's teeth.
MAM FIRST BRUSH Clean your teeth like an adult! The MAM Baby's/First  Brush allows babies to easily imitate the way that adults clean their teeth. This means that babies learn to clean their teeth properly right from day one.
Short & compact handle –perfect for imitating adult toothbrushing
Small round head & soft bristles are perfect for gentle cleaning
Safety shield keeps the brush at a safe distance from the back of baby's mouth
Developed with medical experts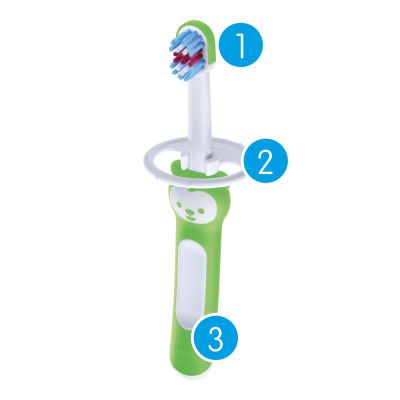 1. HEAD
Small & rounded with extra- soft bristles
Red bristles indicate recommended amount of toothpaste
2. SAFETY SHIELD
Helps to keep brush at safe distance from back of baby's mouth
3. HANDLE
Compact shape – easy to hold for baby's small hands
Non-slip material and ergonomic shape